http://www.chesterfieldpost.co.uk/publi ... 00102.html
Police Base At Hospital
A police base has been set up at a Chesterfield hospital to increase communication and help make staff, patients and visitors feel safer.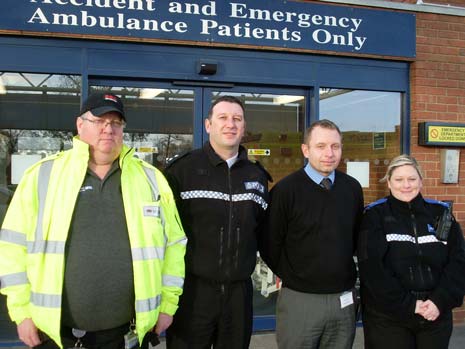 Police Community Support Officer Adele Chapman-Jones (above right) from the local Safer Neighbourhood team is now based within A&E at Chesterfield Royal Hospital one day a week.
PCSO Chapman-Jones will carry out patrols around the hospital, run crime awareness sessions and be a point of contact for hospital staff.
She carried out her first shift at the hospital yesterday, Wednesday December 14th meeting security workers and other key members of staff.
PCSO Jones said: "It's really important to us to be as close as possible to the communities we serve.
"I will be the police liaison for everyone within the hospital community and I'm looking forward to my new role and helping to resolve any issues where possible."
The hospital has been involved in the Design Out Violence and Aggression in A&E pilot project with the Department of Health and the police base has been welcomed by security staff.
Security Advisor Ged Holland said: "We jumped at the chance to have a regular police presence on site.
"I'm sure it will promote safety for staff, patients and visitors as well as closer working between us and the police."